Getting Started
You can find assistance here editing pages, adding dynamic content like news, events, and profiles, working with widgets, and more. Whether you're a brand-new user or a seasoned developer, we hope these docs will be a valuable resource to you.
Login to LiveWhale
You can access the login screen by going to your LiveWhale or LiveWhale Calendar website and appending /livewhale to the end of the url (e.g., https://www.your-university.edu/livewhale).
This link will redirect you to the LiveWhale login screen below (or, if your school is setup with single-sign-on, it will redirect you to your school's login page). Use the username and password provided by your LiveWhale Administrator.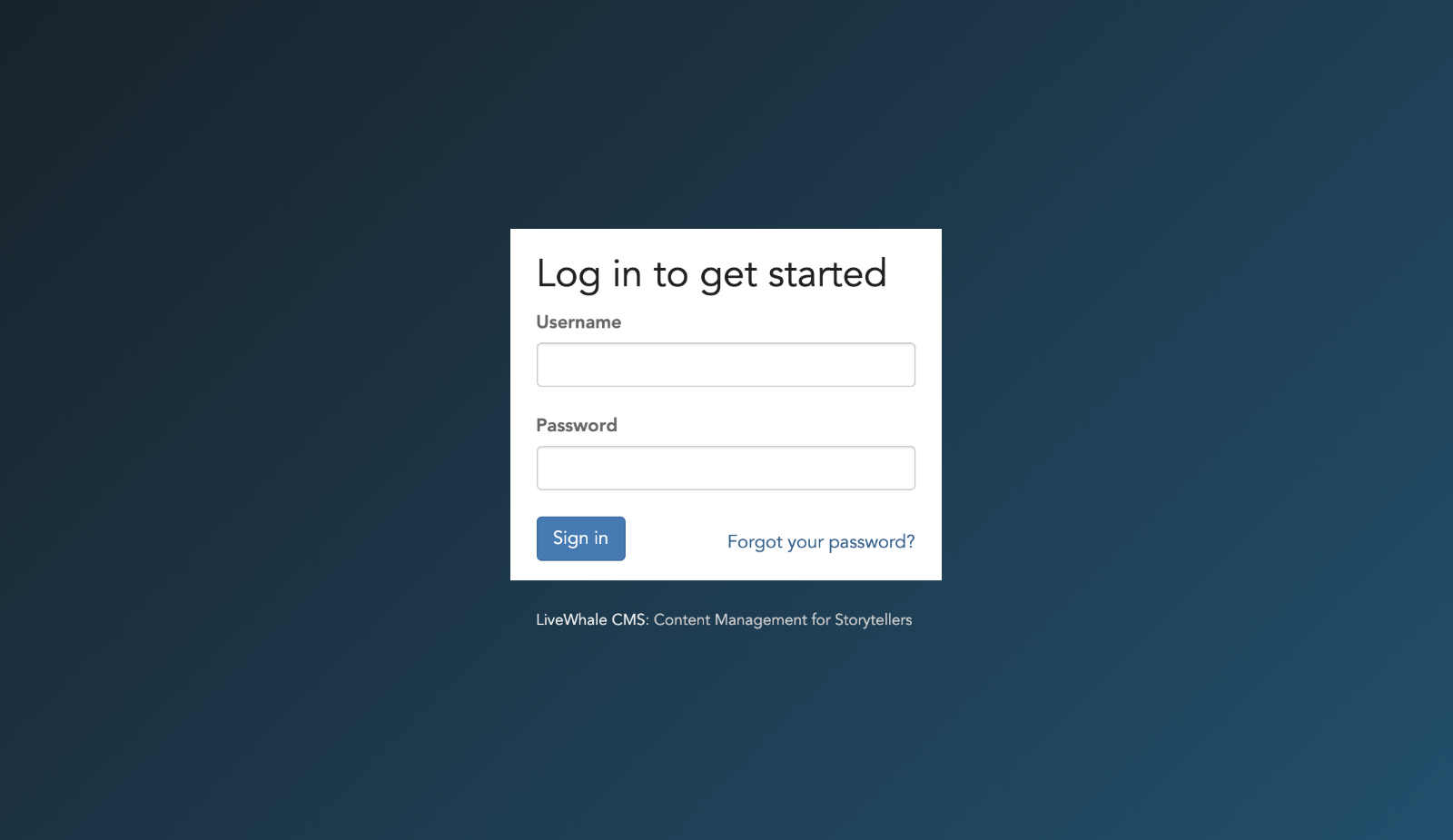 Once you're logged in, you'll see the LiveWhale toolbar at the top of your browser.
LiveWhale Calendar
When browsing the calendar, the button for "Your Events" brings you back to the editor tools. You can click "New" to add a new event at any time, and the Toolbox contains your events, RSVPs, images, locations, and more.


When browsing the dashboard and editor tools, the button for "Go to Calendar" brings you to the main calendar for your school, or your group's calendar, if one is configured.


LiveWhale CMS
When browsing the site, the button for "Dashboard" brings you back to the editor tools. Your Content contains a search tool as well as links to your news, events, profiles, and more. The Toolbox contains your file and image libraries, as well as any administrative tools you might have permissions to access.

When browsing the dashboard and editor tools, the button for "Go to Site" brings you to your current group's homepage, if one is configured.


Group Switching
If you have access to more than one group's content in LiveWhale, you can click "Your Group:" in the toolbar and then switch groups by typing, using the arrow keys and pressing Enter, or clicking with the mouse.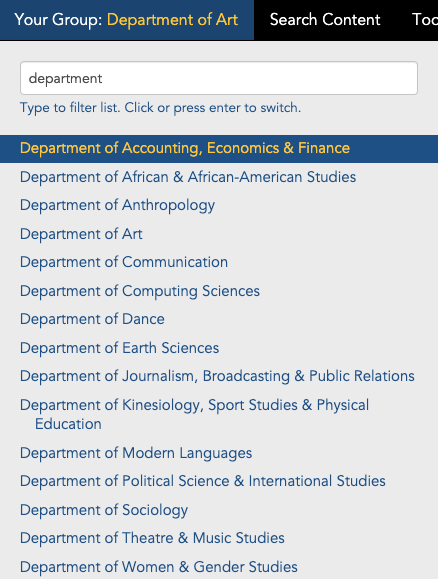 Keyboard shortcuts
In LiveWhale 2.0+, you can use keyboard shortcuts while logged in to open frequently used tools from the LiveWhale Toolbar.
| Keyboard Shortcut | Action |
| --- | --- |
| Ctrl+G | Open the Group switcher |
| Ctrl+S or Ctrl+C | Open Search Content or Your Content |
| Ctrl+T | Open the Toolbox |
| Ctrl+E | CMS only: Edit Item or Edit Page |
| Ctrl+D | CMS only: Open the Page Details |
| Ctrl+N | CMS only: Open the Notes |